Brand new way to detangle your pet's coat without scratches and without pain!
The brush effortlessly removes up to 95% of dead pet hair and detangles it in just 3 minutes. Goodbye to tangles, knots, spills, and mats with gentle care.

Easy to use in six simple steps.
FEATURES: 
Upgraded Pet Brush: Comfortable 56/76 rubber prongs that fit pet's body perfectly and really add to pet's comfort; The non-slip handle is more suitable for the owner. Suitable for short-haired, medium-haired or long-haired dogs/cats/rabbits.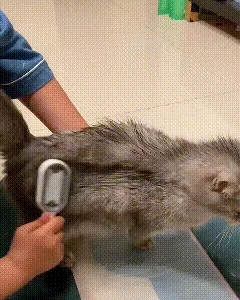 UNIQUE CLEANING DEVICE: Unlike other combs, our pet comb contains wet paper towels to remove loose hair from your pet's back while gently cleaning the hair. Save your cleaning time.

Massage Your Pet: The comb not only removes loose hair, but also massages your pet at the same time, especially for long-haired pets. These combs effectively penetrate the hair roots, untie knots and improve mood.
Hair remover for clothes: The cat comb features short and fine teeth on the back, making it ideal for removing pet hair from clothes, sofas, and other surfaces. By caring for your cat or other pets and keeping their coat clean, you can greatly reduce the risk of pet illnesses.


Note: For your pet's safety and comfort, we do not provide towels. Please use your daily towels. Most towels will do.


Cleaning comb with water tank: three-in-one cleaning, hair removal, massage, original water tank design, can add water and leave essence, no hair. (petrol not included)